You can send an SMS via the GoFax App on your computer, smartphone or tablet.
Ensure that you have installed the GoFax App on your device.
Open the GoFax App and log in.
Tap "SMS" on the main navigation.
Tap "Quick SMS" from the secondary menu.
Enter a "From SMS Number" as your sender ID (maximum 11 characters).

To send a 2-way SMS, leave this field blank. The recipient can reply to the SMS within 48 hours.
To receive a reply to another mobile number, enter the mobile number into the "From SMS Number" field.
If you do not wish to receive replies, enter an alphanumerical From SMS Number such as your business name. E.g. GoFax (this will be displayed on the recipient's handset when the SMS is delivered).
If you have a GoFax virtual mobile number , you can enter this number in the "From SMS Number" field to receive unlimited inbound replies.

Enter the "To SMS Number" and tap to add.
Enter the message you wish to send. The message will be displayed as a "Preview Message" on the page (Preview Message only available when using the GoFax App on your computer). See SMS character limit for details of maximum message size.
Scroll down and tap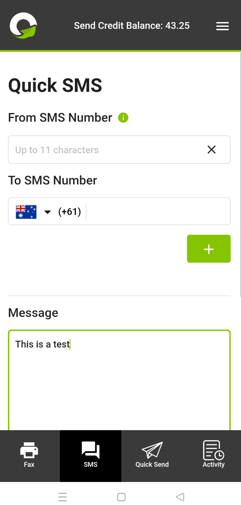 Please ensure that you have available send credits to send your SMS via the GoFax App. To top-up your account balance, tap on your "Send Credit Balance" at the top of the page in the GoFax App to be taken directly to your account top-up page. See adding prepaid send credits.
View here to access additional support guides for using the GoFax App.